Posted: October 5, 2015
Filed under: Asia, China, Food & Drink, Global
| Tags: Beijing, China, Guangdong, Hong Kong, Johnny Depp, Macau, Occupy Central, South China Morning Post, The Guardian, Triad (underground society), Whitey Bulger, Xi Jinping
Leave a comment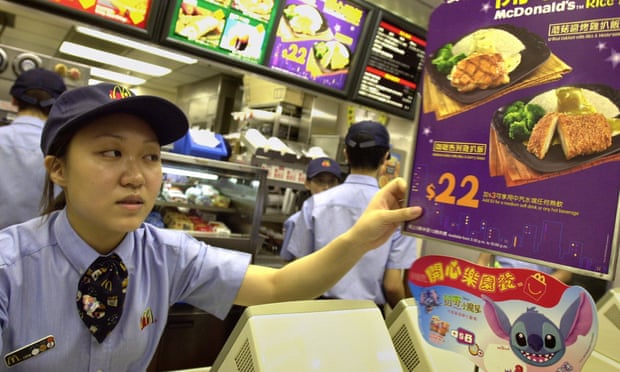 Woman aged between 50 and 60 entered the restaurant 24 hours earlier, but police were not called for several hours.
A homeless woman lay dead at a Hong Kong McDonald's restaurant for hours surrounded by diners before authorities were called.
"The subject was certified dead at the scene."
The woman, aged between 50 and 60, was found dead on Saturday morning and has been held up as an example of the growing number of homeless people who seek shelter in 24-hour restaurants.
"We endeavour to support street sleepers to enhance their self-reliance…the subject is a complex social problem."
"Officers arrived upon a report from a female customer [that a person was found to have fainted]," said police in a statement.
"The subject was certified dead at the scene."
Local media said the woman was slumped at a table, 24 hours after she first entered the restaurant in the working class district of Ping Shek.
She had not moved for seven hours before fellow diners noticed something was wrong, according to Apple Daily, citing CCTV footage.
The woman was thought to have regularly spent nights in the McDonald's, said the South China Morning Post. Read the rest of this entry »
---