Posted: December 9, 2015
Filed under: Law & Justice, Mediasphere, Politics, Terrorism, Think Tank
| Tags: Airport security, Civil penalty, Firearm, Full body scanner, Instagram, Orlando International Airport, Security checkpoint, Trans woman, Transgender, Transportation Security Administration
1 Comment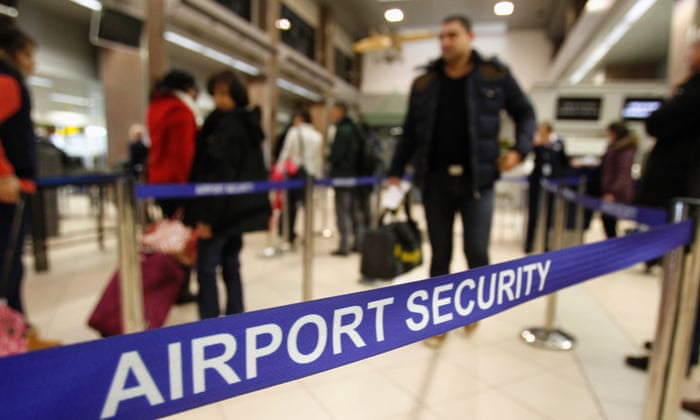 Long-withheld document provides insight into secretive system in which people can be placed on terrorism databases with astounding ease, and without any way to get off.
Spencer Ackerman reports: Placement on a terrorism watchlist is a life-changing event. Your travel is monitored and in many cases restricted. If overseas, you could be stranded, costing your employment or reunion with your family. You could be detained and, certain lawsuits allege, tortured by foreign governments.
Yet the ease with which someone can be placed on US watchlists and terrorism databases contrasts markedly with the impact placement has. A long-withheld document published on Wednesday by the Intercept detailing the guidelines for placement shows that the standards for inclusion are far lower than probable cause, and the ability for someone caught in the datasets to challenge their placement do not exist. In 2013, the government made 468,749 nominations for inclusion to the Terrorist Screening Database, up from 227,932 nominations in 2009; few are rejected.
The rise – and the low standards the Intercept documented – is partially explained by the near-miss airliner bombing in Christmas 2009, by a man connected to a Yemeni branch of al-Qaida. Partially it is explained by the overwhelming secrecy surrounding the process: attorney general Eric Holder has called it a state secret (although the guidance document itself is unclassified), preventing meaningful outside challenges that would recalibrate a balance between reasonable expectations of security and liberty.
That secrecy, as the Intercept's publication indicates, is starting to erode – slowly. Recent court cases have given the beginnings of insight into how the US government's apparatus of terrorism databases and watchlists works in practice. Here is a guide.
They're reading your tweets
The watchlisting guidance says that "first amendment protected activity alone shall not be the basis" for nominating someone to the lists. The key word: alone. What you say, write and publish can and will be used against you. Particularly if you tweet it, pin it or share it.
[Read the full text here, at The Guardian]
The guidelines recognize that looking at "postings on social media sites" is constitutionally problematic. But those posts "should not automatically be discounted", the guidelines state. Instead, the agency seeking to watchlist someone should evaluate the "credibility of the source, as well as the nature and specificity of the information". If they're concerned about a tweet, in other words, they're likely to go through a user's timeline. That joke about that band blowing up could come back to haunt you at the airport.
Where you go might get you placed on the list – and then stranded
Contained within the guidance is a potential reason why many US Muslims find themselves abruptly unable to return from trips abroad without explanation. An example given of "potential behavioral indicators" of terrorism is "travel for no known lawful or legitimate purpose to a locus of TERRORISM ACTIVITY". Not defined: "lawful", "legitimate" or "locus". That could mean specific training camps, travel to which few would dispute the merits of watchlisting. Or it could mean entire countries where terrorists are known or suspected of operating – and where millions of Americans travel every year.
The guidelines themselves, in that very section, warn that such behavioral indicators include "activity that may have innocent explanations wholly unrelated to terrorism". It warns analysts not to judge any circumstance "in isolation".
What happens on the no-fly list does not stay on the no-fly list. A federal judge, writing in June, noted that the FBI's Terrorist Screening Center shares information on banned passengers with 22 foreign governments as well as "ship captains", resulting in potential "interference with an individual's ability to travel by means other than commercial airlines".
Many people who have sued the US government over the watchlists have reported being unable to return from travel abroad. Ali Ahmed, a US citizen in San Diego, attempted in 2012 to fly to Kenya to meet his fiancee for their arranged marriage. But first he flew to Saudi Arabia to make the religiously encouraged pilgrimage to Mecca; he found himself stranded in Bahrain after he was unable to enter Kenya. Ayman Latif, a disabled US marine originally from Miami who now lives in Egypt, was prevented from flying to the US for a disability evaluation from the Department of Veterans Affairs.
There's room for the family (and perhaps your friends)
A precursor data set that feeds the Terrorist Screening Database (TSDB or, "the watchlist") is the Terrorist Identities Datamart Environment, or TIDE, maintained by the National Counterterrorism Center. TIDE contains records of known or suspected international terrorists. It also contains information on their families and perhaps their friends.
"Alien spouses and children" of people NCTC labels terrorists get put into TIDE. They "may be inadmissible to the United States", presumed to be dangerous. TIDE also contains "non-terrorist" records of people who have a "close relationship with KNOWN or SUSPECTED terrorists", the guidance reads. Examples listed are fathers or brothers, although the guidance does not specify a blood or marital relationship as necessary for inclusion. Those people can be American citizens or noncitizens inside the United States. While those "close relation[s]" are not supposed to be passed on for watchlisting absent other "derogatory information", their data may be retained within TIDE for unspecified "analytic purposes".
Just because a jury finds you innocent doesn't mean watchlists agree
The guidelines explicitly state that someone "acquitted or against whom charges are dismissed for a crime related to terrorism" can still be watchlisted. A federal official nominating such a person for inclusion on the list just needs "reasonable suspicion" of a danger – something defined as more than "mere guesses or hunches", based on articulable information or "rational inferences" from it, but far less than probable cause. A judge or jury's decision is not controlling.
Watch how you walk
In keeping with a general enthusiasm exhibited by law enforcement and the military for identifying someone based on their seemingly unique physical attributes, biometric information is eligible as a criteria to watchlist someone. Several of those biometric identifiers are traditional law enforcement ones, like fingerprints; others are exceptionally targeted, like DNA. Then there are others that reflect emerging or immature analytic subjects: "digital images", iris scans, and "gait" – that is, the way you walk.
[Read the more here, at The Guardian]
Gait and other biometric identifiers do not appear sufficient to watchlist someone. But they are sufficient to nominate someone to the watchlist or TIDE, provided they rise to the "minimum substantive derogatory standards" – articulable reasons for suspecting someone of involvement of terrorism, a far lower standard than probable cause – unless they come accompanied with evidence that the manner of walk in question includes "an individual with a defined relationship with the KNOWN or SUSPECTED terrorist". It does not appear that a particular swagger by itself can be watchlisted.
Lisa says …
Lisa Monaco is a former US attorney who holds one of the most powerful and least accountable positions in the US security apparatus: assistant to the president for homeland security and counter-terrorism. She has enormous influence over the watchlisting system. Read the rest of this entry »
---