Posted: August 3, 2014
Filed under: Breaking News, Law & Justice, Mediasphere, U.S. News, White House
| Tags: Barack Obama, Congress, David Remnick, John Boehner, Lenin's Tomb: The Last Days of the Soviet Empire, New Yorker, Obama administration, Remnick, Republican Party (United States), United States Congress, Weekly Standard
1 Comment
From The Corner, Ian Tuttle brings this:
The Obama administration has been "rather light on executive orders," says David Remnick, editor of The New Yorker.
 "This business about a lawsuit and talk of impeachment is pathetic."
On ABC's This Week, apparently having dipped into the NYT's cannabis stash before going on the air,  continues.
"It is a very sad spectacle, and history will look back on this Congress with a very, very critical eye."
History will look back on which branch of the government with a very, very critical eye?
Later in the show, Remnick insisted that it was shameful that a majority of the Republican party was in favor of impeachment.
Really. A majority of the Republican party?
There you have it. If the editor of The New Yorker says it on ABC's This Week, it must be true.
---
Posted: January 22, 2014
Filed under: Politics, U.S. News, White House
| Tags: Andrew Cuomo, Barack Obama, Bill Clinton, George W. Bush, New York, Obama, Remnick, Robert Gates, Wendy Davis
1 Comment
No longer punished with a baby.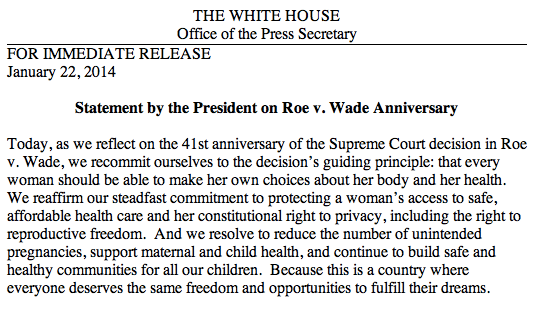 Ace also has a take on Isaac Chotiner's New Republic 'Obama's-talking-to-us-like-we're-children' complaint, which he gets to, further in. Read it all, at the HQ. Here's Ace getting warmed up…
It's instructive to note the shift from Bill Clinton to Barack Obama. Bill Clinton straddled the issue, rhetorically, by declaring that abortion should be "safe, legal, and rare." By adding the last word — really nothing more than a rhetorical fillip, because he opposed all restrictions — he at least attempted to signal to pro-life people that he understood the act of abortion did in fact have moral consequences.
Whether he did believe this I have no idea. But he did at least try to signal his understanding of, and concern about, the moral consequences of abortion.
His political posture was thus: If you're pro-life, I am voting against you; I will use my power as President to advance the interests of your opponents and thwart your own; however, I will at least give you the courtesy of a rhetorical nod towards the plausibility and respectability of your position. I disagree with you, but I will grant you that your position is well-founded, even if it is one I do not favor.
Compare this to Barack Obama, who today proclaims abortion an unambiguous moral good, something that permits "everyone" to "have the same freedom and opportunity to pursue their dreams."
---
Posted: January 22, 2014
Filed under: Mediasphere, Politics, White House
| Tags: Barack Obama, David Remnick, George W. Bush, New Yorker, Obama, Remnick, Robert Gates, United States
3 Comments
Because he's so busy showing us what an adult he is
Isaac Chotiner  writes:  David Remnick's long profile of President Obama in this week's New Yorker gives the president numerous opportunities to speak at length about a variety of subjects and events. Remnick's piece is not edited in the style of most New Yorker stories, perhaps because Remnick himself felt that the best way for readers to really "get" Obama was to let him talk (and talk), largely uninterrupted. The portrait that emerges is not so different from the picture most people who follow politics already have of the president: serious, reserved, rather dispassionate, cerebral, intellectual, and proud of his own self-awareness.
It's this last attribute, however, that has become increasingly noticeable over the past five years. And the more noticeable it's gotten, the less attractive it has become.
---